We welcome your application.


The Goodfellow Fund is the Star-Telegram's holiday charity and was founded by Star-Telegram employees in 1912. The Goodfellow Fund provides clothing and shoes for underprivileged Tarrant County school-age children during the holiday season.
NOTE (November 06, 2015): Interest and submission of applications for assistance from The Goodfellow Fund has been very robust this year. In fact, we have already received a record number of applications. The Goodfellow Fund has reached the maximum number of families that can be served this year and is no longer accepting applications for 2015. If you are seeking assistance, you may want to consider the City of Fort Worth's Cowboy Santas Program (link), The Salvation Army (link), local churches or other organizations that usually provide assistance during the Holiday season. Please consider The Goodfellow Fund again in 2016; we will have 2016 applications available here on September 1, 2016.
How you can apply for assistance from The Goodfellow Fund

Parents and guardians are urged to submit applications as soon as possible. 2015 applications (available below in PDF format in English or Español) will be processed and qualified in the order in which they are received. Fund officials hope that the 2015 campaign will be able to serve the first 18,500 qualified children. Applications will be accepted and processed until that number is reached. Apply early to ensure your children are eligible. Historically this number of qualified applications has been reached by early-November.
Applications will be available at more than 40 locations, including the Fort Worth Public Libraries, Community Centers, all of the Arlington Public Libraries and several other locations in Tarrant County. Plus, Goodfellow applications are also available at the Star-Telegram office in downtown Fort Worth. Directions to all of these locations, listed by town and ZIP code, are available here.
Completed applications should be mailed to:
The Goodfellow Fund (Application)
P O Box 1288
Fort Worth TX 76101
Goodfellow Fund Guidelines:
The Star-Telegram Goodfellow Fund provides clothing for qualifying school-age children, born between June 1, 2000 and September 1, 2011.
• Qualifying children must be living in and attending school in Tarrant County, and there must be at least one child in the household between the ages of 4 and 15 in grades pre-kindergarten through the eighth grade (depending on the child's date of birth, some 9th graders would be eligible).
• Total household income must be less than 125% of the current federal Poverty Income Guideline. The guideline may be viewed here.
The Goodfellow Fund Applications: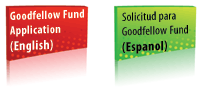 The Goodfellow Fund applications are available (in PDF format in English or Español) by clicking on application image(s) at the right.
Additionally, you may visit one of the community locations listed in our application locations guide () or you may visit the Star-Telegram office in downtown Fort Worth, Monday-Friday during business hours for an application. The office is located at 808 Throckmorton Street, Fort Worth, 76102 (map).
Note: PDF documents on this site require the free Adobe Reader. You may download the reader directly from Adobe.com.